Full Moon Gong Sound Medicine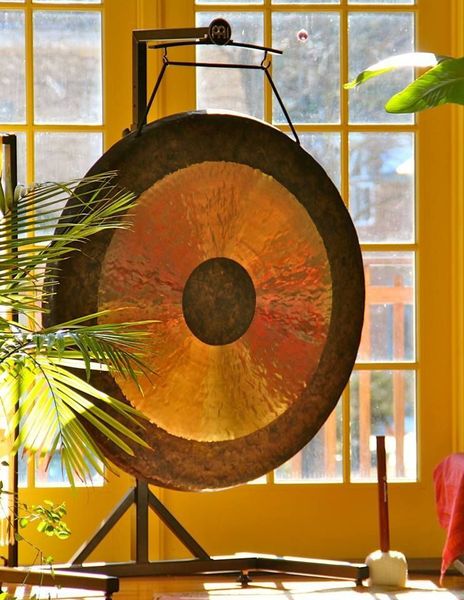 Date & Time: Once a Month on the Full Moon | 6pm | $20 in advance $25 at the door 6/15, 7/13, 8/17, 9/14, 10/12
One hour Gong sound bath with RYT-200 Reiki Master and Master Yoga Nidra teacher Carol Regan.
"Most of us, live our lives disconnected from the Earth, and devoid of any kind of Ritual that creates the space for us to connect. The Moon provides us with an opportunity to carve out time in our lives for the sacred space needed to take care of ourselves."
It is essential. Indulge in a spiritual tune up every Full Moon at Hot Yoga University.
The full moon affects the deep ocean of our emotional self – pulling buried emotions to the surface of our consciousness. During this time, the barriers to the subconscious mind drop to release the vibrations of the past through memories, emotions, buried hurts and pain. This is an opportunity to bring into the light hidden aspects of yourself and by joining together we each receive exponentially more from the meditations, mantras, rituals, ceremonies.
The gong is a sacred and ancient instrument of deep healing, rejuvenation and transformation. It echoes the sound of the birth of the Universe, reminding your cells of their innate harmony, health, and radiance.
This is a special full moon healing gong bath. You will be guided through a short Kundalini kriya, then relax into bliss…
Create your own monthly ritual of letting go with the Full Moon Gong Healing. The fullness of the moon illuminates what needs to be seen. Each Full Moon you are asked to do the work of the deep psyche. Allowing yourself to see what no longer serves you and gathering the courage to let go of old beliefs, emotions, habits or ideas. See you on your mat!
Align yourself with the Universe at this Full moon. Create Ritual. Heal.