Hatha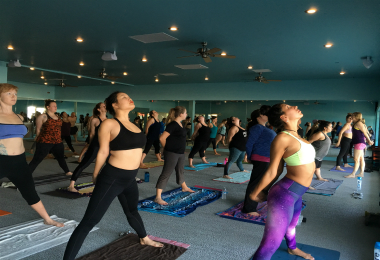 Hatha -Hot Yoga Evolved Integrative Method® 60 MINUTES – Beginner Level I meditation in motion, combining hatha & raja yoga, this sequence works every area of the body including some hard to reach muscle groups. This all encompassing class challenges students to find stillness while holding a posture for a period of time, thus allowing intensity, thoughts and awareness to build, while staying present in witness consciousness.
This sequence will also improve balance, strength and flexibility. While engaging in non-reactive presence, students are able to become aware of the flow of prana, staying present to the sensations in the the body allowing the life force to return to the higher Self instead of becoming stuck in the mental or emotional bodies. We have a built in pause in-between postures to create awareness of thoughts and sensations, working the energetic body helping yogis experience a deeper understanding of Self and allowing our prana to be an evolutionary guide to the the higher Self.
This class prepares students for Cardio Power flow (Level II) class.
Hatha stimulates the tourniquet effect and this helps push fresh, oxygenated blood to joints, muscles, ligaments and internal organs which is extremely nourishing and rejuvenating. Combining the basic premise of raja yoga that our perception of the divine Self is obscured by the disturbances of the mind. If the mind can be made still and pure, the Self will automatically, instantaneously, shine forth.
This is a great sequence to heal and rehab injuries and by strengthening the body, it will also help to also prevent future ones. Mind, body and spirit blissfully work together in this 60 minute hot yoga class allowing each student more time to work on form, alignment and awareness. All levels are welcome. No prior experience is needed.