Karin Fellman
Visionary Founder of Hot Yoga University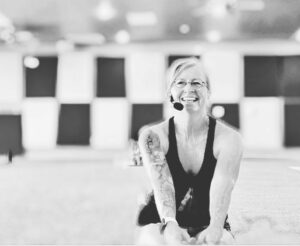 E-RYT® 500 YACEP Experienced Yoga and Meditation Teacher
Amrit Yoga Method Certified Master Yoga Nidra Teacher
Kundalini Research Institute Certified Aquarian Yoga Teacher
Bikram Yoga Teacher
Lead Faculty member of Hot Yoga University's Yoga Studies 200 hr Yoga Teacher Training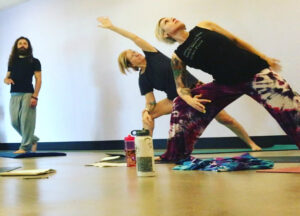 Karin and Effie
"Work is love made visible." Kahlil Gibran
Karin is one of the Valley's most well loved and respected yoga teachers. Her vision to create an urban style yoga studio that was affordable for everyone, where yogis of all backgrounds and levels practice can practice and heal together, became a reality in 2012.
Her passion to serve others continues on a daily basis as she guides and inspires her students, teaching over eleven classes each week. Her radiant authentic style, whole hearted approach to life, along with her ability to connect with her students keeps them coming back for more. Karin's classes balance the meditative, energetic and spiritual side of yoga and life along with anatomical alignment and strength building.
Born in Greenfield Massachusetts, her family moved to the beautiful Arizona desert in 1961. Pretty much a Native Arizonan and local yogi, she grew up right here in Scottsdale. She graduated from Supai Elementary school, Coronado High School and Scottsdale Community College. She met her husband Roy and best friend of thirty seven years, while attending SCC on an athletic scholarship. They have two grown children and two beautiful grandchildren.
Karin was born and raised Catholic and began her meditation practice as a child by reciting morning and evening prayers. Her mother and grandmothers shared their deep devotional practice to pray the rosary with Karin and this early religious training became the foundation of a deeper spiritual practice of meditation that she has been cultivating over the past fifty years.
She began her yoga practice in 2000 at the Yoga Institute in Scottsdale Arizona. Her practice became a way for her to manage the stress of her corporate career. Her practice allowed her to see it was time to adventure out and she resigned from her corporate job to become a yoga teacher; walking away from everything she thought defined her. Through her practice she had a new understanding, that she defined herself.
Since that time she has completed close to a 1000 hours in yoga trainings and has taught over 11000 yoga classes.
January 2004 ~ Bikram's Yoga College of India's YTT Teacher Training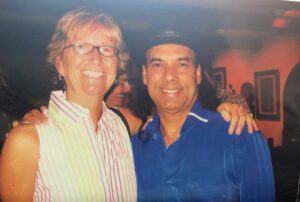 Karin is registered E-RYT 500 with Yoga Alliance.
October 2014 ~ 100-hour Amrit Method, Yoga Nidra training with Kamini Desai Ph.D.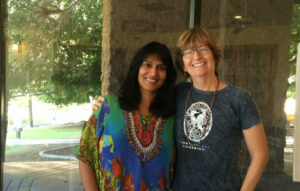 This training was extremely self-healing for Karin and she is grateful to share this ancient form of sleep based meditation and offer it on a regular basis at HYU.
October 2015 ~Yoga Masters Immersion training with Kamini Desai PhD and her father Gurudev Amrit Desai.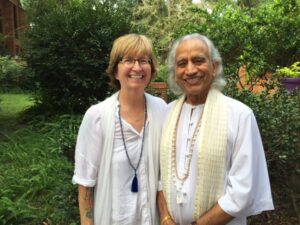 Karin and Gurudev Amrit Desai at his Ashram in the Ocala National Forrest, Salt Springs Florida
Being drawn deeper into the Spiritual and conscious awareness aspect of yoga through her devotion to her own yoga nidra practice, Karin traveled to Salt Springs Florida for a 10-day Advanced Masters Yoga Nidra Training. Living at the Ashram and studying directly under Gurudev Amrit Desai, was very transformational, as she found restoration, mind, body and spirit. The 240 total hours spent at the Ashram deepened her connection to God and the 51 curriculum hours, deepened her understanding of yoga nidra and yoga.
Details of training:
Instruction and practice of Advanced Yoga Nidra techniques
Emotional integration
Yoga Nidra for children
Energetic Anatomy
Scriptural study
The greatest gift was the time spent in stillness at the Ashram and the serenely beautiful surroundings that allowed the reaffirmation of her life path to serve others. Karin knows that beyond the surface of this physical world, there is a divine plan at work in her life and it has guided her to this very moment.
"When, through the practice of yoga, the mind ceases its restless movements and becomes still, the aspirant realizes the Atman."
*KUNDALINI YOGA
June 10th 2018 Kundalini Research Institute Aquarian Teacher Training
<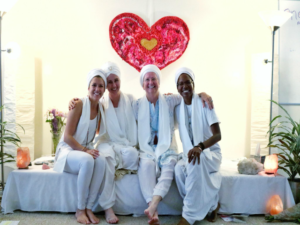 Karin (Radha Sangeeta Kaur) with her fellow Kundalini teachers including HYU Kundalini teacher Clover
Karin successfully completed and graduated from KRI Aquarian Yoga Teacher Training- Kundalini Yoga as taught by Yogi Bhajan. She found the 6 month journey enlightening and also challenging at times. She is grateful for the friendships made and the knowledge she acquired and for the opportunity to branch out into a completely different world of yoga. She is excited to share the technology of Kundalini yoga with you.