Our Mission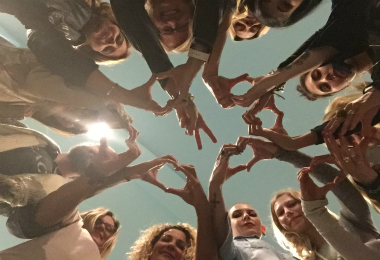 We are here to create a paradigm shift in the realm of Hot Yoga, by moving away from the old perception that hot yoga is merely a physical workout. We focus more on inner awareness, spirituality, witness consciousness and sensations in the body; bringing each student closer to Source , align to enlighten! This is the Hot Yoga Evolved Integrative Method®
Heated classes; Hatha, Hot Pilates, Hot 90, Cardio Powerflow, HOTFIIT® and Iron Sculpt.
Non-heated classes; Kundalini, Yin, Vinyasa Flow, Yoga Nidra, YinNidra and Foundations Yoga
Our intention is to serve the entire yoga community and her yogis and to treat all students with love and compassion. To create a learning environment where each student is encouraged to show up on their mat, just as they are, align their bodies to enlighten their minds. To provide a clean, stimulating, fresh air facility. To open our doors to everyone, by offering affordable tuition.
"We care about our community at HYU and gratefully give back to the community every day, with $10 drop-ins since 2012. We also have Free classes for college students every Thursday. Our every day low prices allow our students to get healthy along with the opportunity for them to support causes and interests that are close to their heart."
To develop teachers that leave their ego's at the door, teach from their heart. We are here for you. Our hope is that each student leaves class feeling uplifted, knowing that they make a difference in the world. This is Hot Yoga Evolved ®.
Our intention at HYU is to be present for each student and to step away from rote memory (We do not use a memorized dialogue) so we can help each student feel comfortable in the yoga room so they can make the most of their yoga practice. Our students feel special at HYU because they are!
Yoga Teacher Certifications! Our staff maintains continuing education through Hot Yoga University an adhere to the philosophy of compassion in the yoga room. HYU Founder, Karin Fellman, has personally trained and certified her instructors to ensure that her methods and philosophy are preserved and properly taught. Hot Yoga University and her teachers are proudly registered with Yoga Alliance .
Our staff's levels of training include Master teacher trainers and Yoga Nidra facilitators, E-RYT 500's, E-RYT 200's and RYT 200 which is the minimum 200 hours of training by the standards of Yoga Alliance.
Please visit Yoga Alliance to find out more about what goes into becoming a certified Yoga Teacher by the standards of Yoga Alliance. Also, please visit our Instructors page to find out more about our instructors' paths to get here and their specific certifications.
Our teachers also call HYU home. You'll not only find our teachers guiding you through amazing classes, you can also practice right next to them on your mat. They love the yoga they teach as much as you do and love getting to know our students even more!