Our Old Town Scottsdale Yoga Studio
HOT YOGA + NON HEATED YOGA + HATHA + HOT PILATES +VINYASA + IRON SCULPT + HOTFIIT + YIN + YOGA NIDRA + KUNDALINI + MEDITATION + FOUNDATIONS YOGA + RESTORATIVE
Come home to HYU, locally owned and operated right here in Old Town Scottsdale since 2012.
We are Arizona's Original multi-class yoga studio with Heated and Non heated yoga rooms.
You'll love our 60 & 90 minute Hatha Integrative method classes along with our hot Vinyasa -Cardio Powerflow, 50 minute Hot Pilates, 45 minute Iron Sculpt and 30 minute HOTFIIT ®
In our Non-Heated Room we offer: Kundalini, Vinyasa Flow, Yin, Yoga Nidra, YinNidra, Foundations Yoga And Movement Meditation. We are proud to be the leader for innovation and change in the hot yoga industry since 2012.
HYU is the yogis choice year after year for "Best Yoga Experience" with our $12 drop-ins, innovative 60 minutes classes and wide variety of unique hot and non-heated class styles. Align your body, enlighten your mind! This is hot yoga evolved!
And let's not forget our studio smells great!!
Come and enjoy our spacious 5200 square foot urban style studio. Three beautiful yoga rooms, heated and non-heated.
Escape into a world of total comfort, relaxation, and rejuvenation. Hang out in our good vibe lobby, with a huge sitting area where you can come early and stay late. You can read and even check out one of the many books in our mini library or even practice meditation by a peaceful fountain.
Shop at the HYU boutique where we showcase and support many local Arizona business owners. We offer yoga clothing, books, organic soaps, bath bombs and mat sprays from these amazing local artisans. Have fun talking with friends or go online to do homework or business. Free Wi-Fi to make life easy. Charge your iPhone while you're in class at our convenient charging stations located in the locker rooms.
You'll love our roomy men's and women's changing areas with spa like amenities, lockers, phone charging outlets and plenty of showers.
Our sound system is the bomb, professionally designed with yogis in mind. You'll love the beautiful digitally enhanced music piped through our lobby, changing areas and three yoga rooms. Each room receiving it's own dedicated system with panoramic sound.
Our two non-heated spaces are perfect for our restorative and more meditative class styles and our hot yoga room is huge and "state-of-the art". You'll never feel like a sardine at HYU, we always have plenty of room for you!
We changed the feel of hot yoga in Arizona by bringing P.E.M. flooring; eco-friendly hypo-allergenic flooring to the valley in 2012 when we opened up. It's made for hot yoga; safe, slip-resistant and odor free, providing sure footing and optimum safety, unlike slippery wood or smelly carpet flooring.
Enjoy filtered drinking water at our water bottle filling station in the hallway.
Our Fresh Air UV System blends the proper balance of Fresh Air, Heat and Humidity so that your clean, hot yoga experience is un-paralleled.
Our computer system is also state of the art allowing students to check in within seconds using, ipads and an electronic "fast pass" system.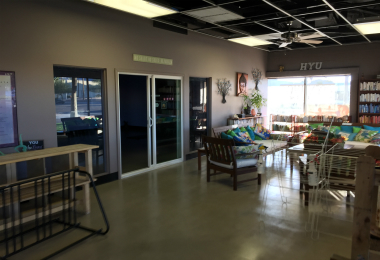 Students can also check class times and teacher schedules on their smart phone, using the "Mindbody" app. Our staff is friendly and approachable, answering questions before and after class and guiding you from a place of compassion, allowing you to experience your yoga…renewing mind, body, and soul.
Be Local, Shop Local ~ Support Small, Local Independent Businesses