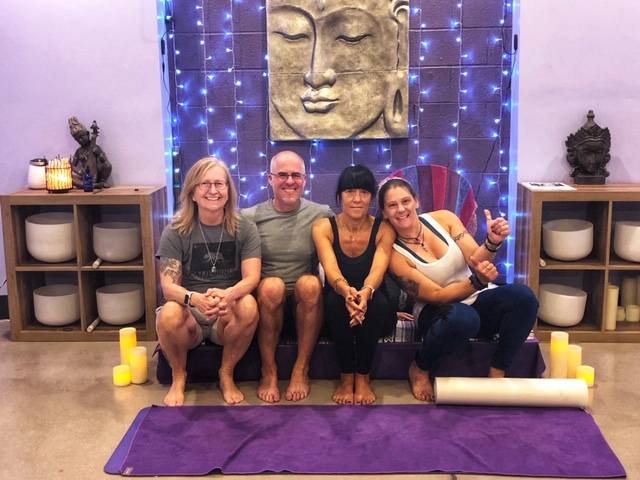 200 Hour YTT Final Practicums
November 3, 2018
Our Fall 200 Hour Yoga teacher training ends in a couple weeks and practicums are in full swing. Today three daring and ready trainees took the seat of the teacher and taught their own amazing vinyasa flows. Next week all the remaining trainees will teach their classes too.
We experienced a wide variety of creativity and style, perfectly matching up to each teacher's personality; Greg taught a lifecycle flow telling the story of life through movement. Ellen taught a strong H27- Hatha inspired class and Gaynor created her own unique Jivamukti inspired flow. I loved them all for their authenticity and heartfelt presentation.
As their teacher I felt humbled, blessed and many times completely overwhelmed by the whole experience as I watched the compilation of their entire journey in the form of a one hour class. I flashed back to their beginning moments of doubt and fear and how they have overcome it all to teach others the practice that changed their life.
I wanted to share with you this beautiful poem Greg read, to sum it all up.
In the End by Tara Mohr
In the end
you won't be known
for the things you did,
or what you built,
or what you said.
You won't even be known
for the love given
or the hearts saved,
because in the end you won't be known.
You won't be asked, by a vast creator full of light:
What did you do to be known?
You will be asked: Did you know it,
this place, this journey?
What there is to know can't be written.
Something between the crispness of air
and the glint in her eye
and the texture of the orange peel.
What you'll want a thousand years from now is this:
a memory that beats like a heart—
a travel memory, of what it was to walk here,
alive and warm and textured within.
Sweet brightness, aliveness, take-me-now-ness that is life.
You are here to pay attention. That is enough.
The last line says it all, we are here to pay attention…

Karin xx