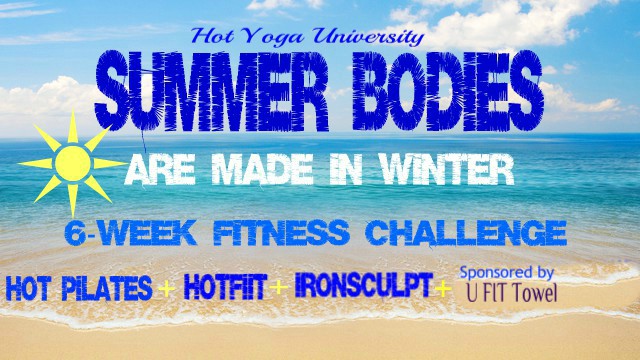 Summer Bodies 6 Week Fitness Challenge
January 27, 2019
Summer Bodies are Made in Winter Challenge
MAKE THIS SUMMER YOUR SUMMER TO REMEMBER!
Working out in winter definitely has its advantages; It's a great way to get in shape slowly and safely over a longer period of time.
We are all about following Karin's mantra,

"Do you best, not your most."


This 6 Week Fitness Challenge sponsored by our friends at U Fit Yoga Towel, is not about obsessing over being skinny, its about doing your best and letting your results shine through!
$99 to join in! First 15 yogis to sign up receive a U FIT hand towel!
HEALTHY HABITS STARTED IN WINTER ARE MORE LIKELY TO STAY THROUGH THE SUMMER!
The amazing habits you formed during the 21 Day Habit will naturally propel forward into the Summer Bodies Challenge and continue into the Best part of the year and well into Summer.
And if you missed the 21 day Habit now's your opportunity to join our Team of Yoga Fitness Coaches to achieving your Best body yet!
WE'RE HERE TO SUPPORT YOU ON YOUR FITNESS JOURNEY.
You'll experience inner and outer strength, feel comradery, support and even make new friends as we all work together for a common goal of wellness!
TAKE THE LONG TERM APPROACH
The slower you go, the better healthy habits will develop over time, the more likely you are to stick with it and to keep the weight off.
Complete 4 fitness classes each week and 1 or more yoga classes to stretch out and restore. 30 total classes in 42 days.
Summer Bodies Challenge Classes
HOTFIIT
HOT PILATES
IRON SCULPT
HOT 90
TAKE THE SUMMER BODY CHALLENGE $99

6 Weeks
4 Fitness classes a week
24 Total Fitness Classes
1 Yoga class each week
6 Total Yoga Classes
30 Total Classes in 42 Days!
Team Support
Journal your experience
Share on social media
Build your Summer Body now!
Sign up online or at the studio.
The fun begins Monday FEB.18th
See you there!