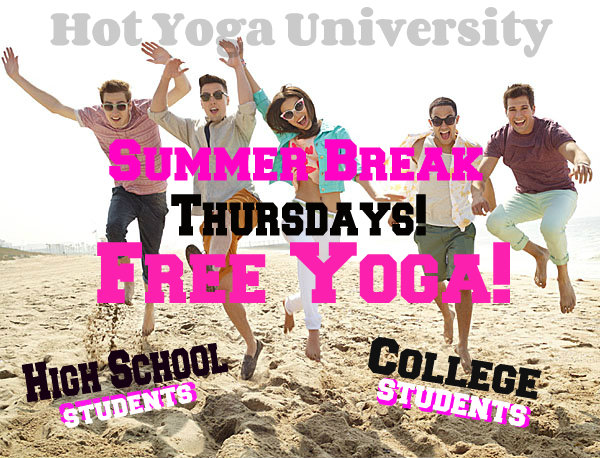 HYU Summer Pass
May 23, 2018
Summer is here! So we've morphed our uber popular FREE College Thursdays a tiny bit, to include High school students with I.D. too!
Also for a limited time High school and Full time College students can purchase
*HOT SUMMER PASS* Up to 90 days of unlimited yoga! ($198 Savings)
Sign up for a 1 month –30 Day Pass -$89
Sign up for a 2 month -60 day Pass $79 a month (total amount due $158)
Sign up for a 3 month -90 Day Pass $69 a month (total amount due $207)
30, 60 or 90 Days of unlimited yoga – including our new Bikram classes! The longer the package the greater the savings! Sign up today offer ends 5/31/18
Disclaimer: This special is available only to High School and College students without a current membership or class card, previous purchase do not apply. Packages are non refundable and non transferable.
What if I'm no longer in school?
You can still enjoy terrific savings with our VIP Professional membership!
Only $99 a month for unlimited yoga!
Including Fast pass key fob – to skip the sign in line
10% off retail and workshops!
Sign up today and receive your 1st month at the College VIP Price of only $69!
*with 6 month agreement, New VIP member sign ups only. Previous purchase do not apply.
offer expires 5/31/18